Sensor Industries' Smart Shutoff Valve helps to mitigate damage by shutting off water at the time an event occurs.
STOP Your Water Leaks Now!
The Sensor Industries LoRaWAN Smart Shutoff Valve is a battery operated wireless valve compatible with Sensor Industries' wireless LoRaWAN open protocol networks.
The Smart Shutoff Valve uses ultra-low power consumption and can be triggered for remote open/close operations. The valve is durable and battery powered with a life of 10+ years, with exceptional deep indoor signal penetration, even over extreme long distances.
Leak protection at your fingertips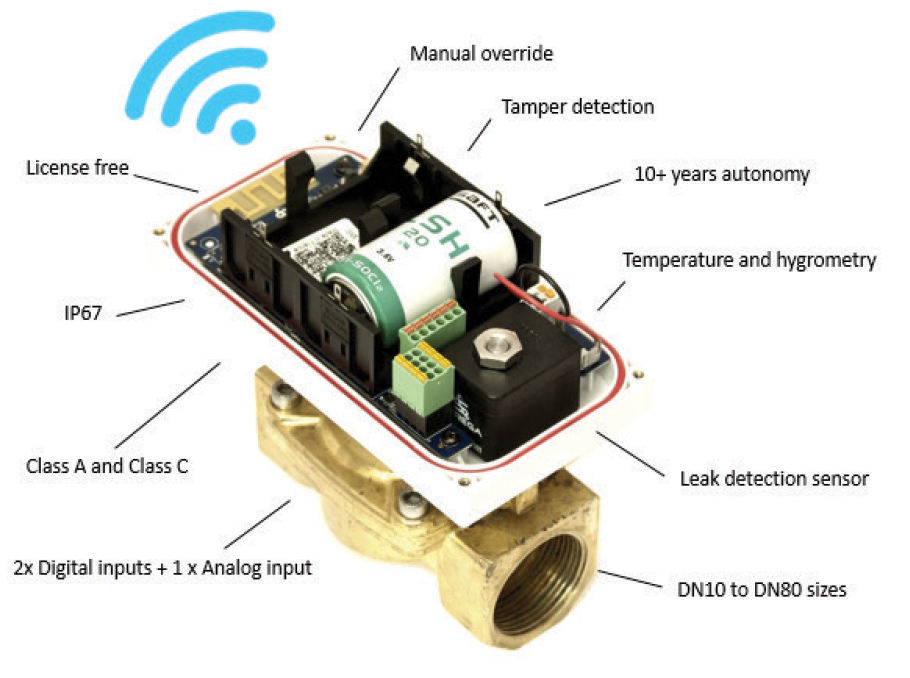 The Sensor Industries LoRaWAN Wireless Smart Valve is a remote open/close shut-off valve designed to work with Sensor Industries LoRaWAN open protocol wireless network.
Battery operated with ultra-low consumption — 10-15 year autonomy
Time-controlled automatic operations
Smart valve can be triggered for remote open/close operations via free of charge Andriod and IOS app
Pipe size from DN10 to DN80 (3/8" to 3")
Industrial grade (PN25, IP67, fluid up to 140 degrees C / 284 degrees F)
License free operation on EU868 and US915
Extreme Range: ultra-long range propagation of the signal with deep obstacles penetration
Automatic schedulers: programmable open/close operations
Digital and analog sensors: 2x digital inputs, one 0-10VDC analog input, temperature and hygrometry sensor
Start Saving!
Talk to a Sensor Industries sales representative and start saving today!
Offices
Headquarters
474  East Main Street
Ventura, CA 93001